Altor Verticale tape unwinder is a new concept machine. Ideal for unwinding spool of double sided tape, silicon tape and tear tape. This device is autonomous and can work on almost all the Fidia's machines. Through this system, it is possible to feed any kind of tape, directly to our Speedy head. Even if it has been previously installed on the machine already in your possession.
These machine it is installable on the Fidia machine itself (like the Ortigia line, the Borea line, the Tosca line, the Shopping bag line). In the same way can be mounted to retrofit, folder gluers like Bobst or Vega.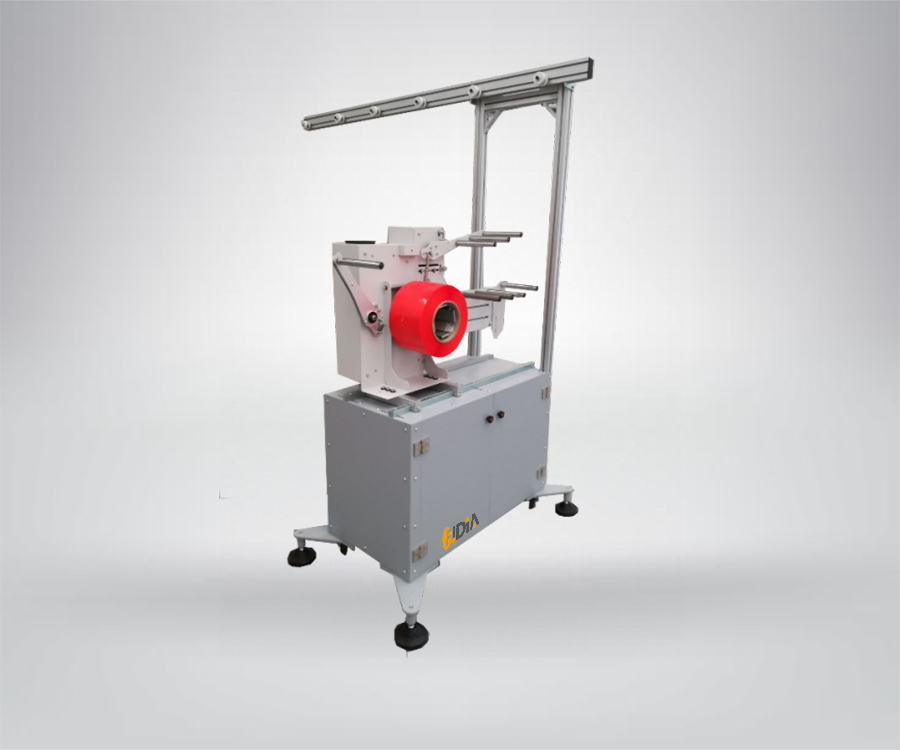 Why can't this tape unwinder be missing in your company?
Undoubtedly, a lot of customers in the world of print finishing require the use of spools with a large capacity.
With the Altor Verticale tape unwinder is possible to convert in an easy and economical way the roller load capacity. In fact, the 500 meters roller lenght provided by the Speedy, can be improved up to a 20000 meters. Of course, depending on the thickness and width of the tape provided by the spool unwinding, Altor Verticale.
With the automatic tape unroller Altor Verticale, it is therefore possible to reduce the tape roller changing times. This will have a big benefit to have higher production. The Altor Verticale will do the same work in less time. It will reduce the loss of time due to frequent machine stops to replace the roll, on the Speedy applicator.
Tape unroller Altor Verticale will be shown at Drupa 2021
Fidiagraf, every year, participates in fairs in the world of print finishing. On those occasions, we show customers the operation of our automatic machines. Next year, we will participate in Drupa 2021, in Düsseldorf, Germany. On that occasion, we will exhibit our Speedy, as a double-sided adhesive tape applicator and tear tape applicator. We will also show our Mistral, the silicon tape applicator. Furthermore, we will show our automatic tape unwinder Altor Verticale, all its technical details, as well as how it works. The uroller Altor Vertivale is designed to meet the needs of our customers. It is adaptable, efficient, fast and precise.

Our Altor Verticale tape unwinder at work
Main features of tape unroller Altor Verticale tape unwinder, are:
Tape width from 4 to 25 mm, on request we can have a large size of 42 mm when we have to feed silicon tape
Possibility to work with a spool (generally up to 20.000 meters)
The Altor Verticale works only in combination with our tape applicators such as:
Speedy to apply double sided tape
Speedy to apply tear tape or rippa tape
Mistral to apply silicon tape
For a better look of the features please get in touch with directly us using the Contact Us or visit our YouTube channel.