Friction feeder taping machine | Borea FF

The Borea with a friction feeder is a very versatile machine, which can be prepared to make folding & gluing of folders or envelopes, as well as applying double-sided tape, silicon tape, or tear tape.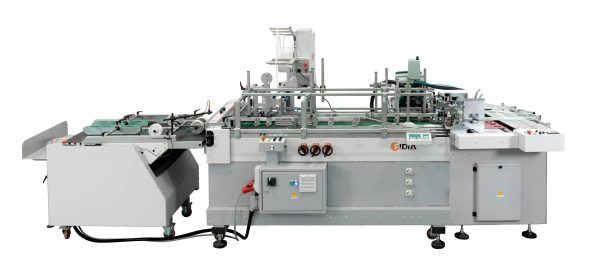 This kind of feeder is very useful or sometimes indispensable, when irregular shapes (e.g. boxes) or a second passage on a product is required, or a small format. In addition, when the run is long, continuous running is more effective.
The Borea FF includes a continuous top loading friction feeder and two working tables, ready to work with:
For any further inquiries for this applicator you may contact us using the Contact Us page or visiting our YouTube channel. Or, here for our tape applicators.
Possible Jobs
Posters of different kind:

Courier envelopes and special envelopes:

Stripes, promotional items, and so on:

Specifications
Technical specifications:
Top loading facility
friction feeder with belts driving
Two sheet trip device with thickness adjustment
Loading capacity: 200 mm (depending on paper weight and size)
Format: Max size 700 x 700 mm; Min size 140 x 240 mm
Sheet gap controller device
Paper weight capacity between: 200 up to 500 gr
Paper transport system through "Bruchi" wheeled transporters
Double sheet feeding controller
Videos
Friction Feeder A/16 | Borea