Inserter Machine | Talia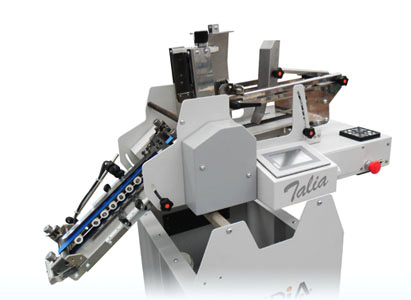 The Talia is an innovative inserter unit for application of many kind of items on upper surface of the end product (shopping bags, envelopes, presentation folders, etc.). The Talia can be placed on our special machines, as well as assembled on other in-line systems. By adding the Talia to a machine it automatically becomes an inserting machine for a number of different things.
For more information, visit the Contact Us page or visit our YouTube channel.
Possible Jobs
With the TALIA we can apply many items on the upper surface of the end product (shopping bags, envelopes, presentation folders, etc.):
reinforced cartons
sample packets (either already glued or still "open")
telephone and credit cards
membership cards
envelopes (perfumes, cosmetics, etc.)
hang tags for clothing
and many others
Specs
Main technical data
Width: from 35 to 120 mm
Length: from 80 to 350 mm
Thickness: maximum 4 mm, minimum 0.3 mm
Grammage: from 200 to 500 gr
System composed of:
Dialog through a 4,3" independent colour touch screen
Emergency button
Manual slow start button
"Nearly empty" control with acoustic warning
Independent copy counter display
Inserting card board governed by a PLC
Videos
Inserting Machine Talia (Made in Italy) I/2
Inserting machine | Talia
Inserting and Pick & place, sample bags and labels on a brochure D/44 | Tosca
Card pick & place on mini envelopes | Tosca D/49
Reversing leaflets recto verso Machine | Tosca D/45
Cards and samples pick & place "TALIA" I/3