Fore edge trimming machine | Eletta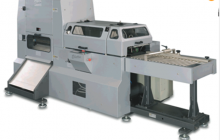 Eletta is a fore edge trimming machine for books and magazines with lateral flap book covers. The Eletta is generally positioned inline on the perfect binding line, before the three knife trimmer. The book covers are opened horizontally with suction cups. The book is registered at the stop clamp position and trimmed using an oblique scissor movement.
Due to the simplicity of the Eletta machine a wide variety of books can be undertaken, such as: stitched and perfect bound books, magazines, etc. Very important, the machine can work as a standalone machine as well as in-line with the perfect binding.
For more information, visit the Contact Us page or visit our YouTube channel.
Specs
Main technical data:
Maximum book format: 320 x 445 mm.
Minimum book format: 105 x 150 mm.
Machine composed of:
Register table with rollers
Register table adjustment by eccentric unit support
Double suction valves device, for book cover opening (top and bottom) including the possibility to select the opening of top or bottom flap or both of them or none of them
Cover openings for books with flaps from 5 to 32,5 cm
Plough system in order to keep flaps opened
Motorised top and bottom belts, for book guiding to cutting position, without damaging the cover
Book register device so that the fore edge is trimmed perfectly square against the book cover
Book block pressing before trimming
Oblique cutting knife against a register bar
Electronic photocell device for cover opening detection
Exit belts recovery, for reject of books not cut properly
PLC with touch-screen keyboard
Automatic centralized lubrication system, having 3 Kg capacity tank