Taping machine | Borea MF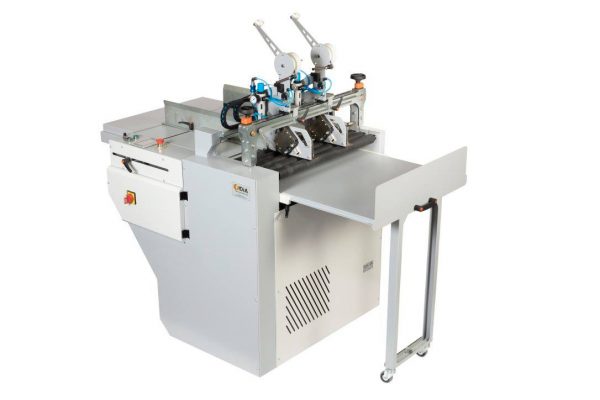 Borea MF is a semi automatic taping machine which can apply tape on any surface. This machine is a perfect solution for all companies that make smaller quantities. For bigger quantities you may check our automatic taping machine.
With an adjustable feeding table and ability to load sheets up to 70×100 cm it is the perfect machine for small scale work. The Borea MF tape application machine has been designed for the semi automatic application of double sided tape. Like on a wide range of P.O.S. (Point Of Sale) items, such as posters, envelopes, shop displays, different objects and so on.
Finally, for any further inquiries for this applicator you may contact us using the Contact Us page or visiting our YouTube channel.
Possible Jobs
Posters of different kind:

Courier envelopes and special envelopes:

Stripes, promotional items, and so on:

Specifications
General characteristics
Paper feeding table adjustable length
Paper weight: 100 grams to 500 gr
Feeding format: Max 70 x 100 cm; Min 21 x 21 cm
Paper Transport system with 5 vulcanized rollers leaned to the double sided tape applicator
Speed 30 meters per minute
Electrical connection 220V monophasic + Neutral + T or electrical power 0.5 Kw
Electronic application control
Electronic system to control double sided tape application length, including of:
4 independent channels
Photocell, to detect the paper
Encoder, to measure the paper length
Programmer, to set the application length
Display
Videos
Double sided tape application with Borea MF manual fed machine A/02
Manual taping machine | Borea MF