Fidia Macchine Grafiche Inserting Machines
One of Fidia Macchine Grafiche's new projects includes inserting machines which is a system to insert and glue flat or 3D (three dimensional) items on paper or similar supports, such as:
Reinforcing cartons
Sample bags
Credit cards
Sim Cards
Membership cards
envelopes (perfumes, cosmetics, etc.)
There are many more real world applications for our machine. Get in touch with us using the Contact Us button for more information on how these machines can be applied to your work.
We have the option of selling just the inserter unit called Talia which may be mounted on other machines aswell.
Below are the machines and more details about them.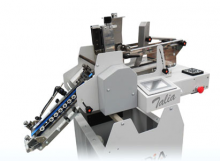 The "TALIA" is an innovative inserter unit for application of many kind of items on upper surface of the end product (shopping bags, envelopes, presentation folders, etc.).
Read More »