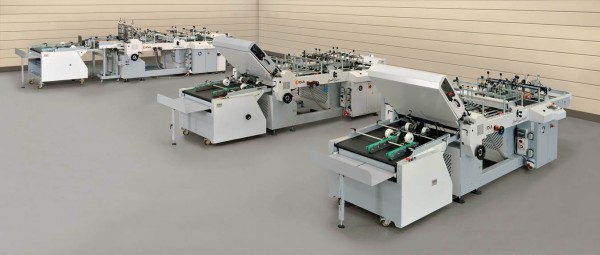 Folder Gluer Machine | CombiUnica Line
With the folder gluer machine CombiUnica line you can fold and glue any heavy duty envelopes i.e. courier envelopes, medical files, photograph holders and so on, including any envelopes presentation folders and CD holders with capacity. Our CombiUnica Line is comprising of five (5) main machines.
The CombiUnica Line is obtained from the CombiUnica original machine, which has been on production for more than 25 years, in its different configurations and over 1000 installations, in all continents.
The CombiUnica Line stands for our range of 2D&3D folding and gluing machines, currently composed of:
CombiUnica V5, this is our full optional, flat folder gluer version, suited for print finishing customers who work for third parties and need the maximum versatility of their equipments.
CombiUnica VARUS® adding the VARUS unit to the CombiUnica V5, we get the CombiUnica VARUS, which alongside the original production of CombiUnica V5, can produce many kind of presentation folders, envelopes, CD/DVD wallets with different capacity spine, etc.
The spine can be from 4 up to 20 mm capacity.
CombiUnica VESTA, this is a basic configuration folder gluer, this new machine is ideally suited for printers and print finishers who have a specific range of production, but at the same time would like to have the possibility to upgrade the configuration in the future. Of course all the options can be added to this configuration, including the VARUS® unit.
Because of many CombiUnica on the market, it's important to remind the Estro unit can be retrofit to any existing CombiUnica. With the CombiUnica Line you can fold and glue any flat or capacity item, like presentation folders, book covers, CD/DVD holders, including heavy duty envelopes, photograph holders, and so on.
For further inquires or questions you may use the Contact Us or visit our YouTube channel. We look forward to hear from you.
Possible Jobs
We can process all sort of 2D (flat) and 3D (capacity) folded and glued works, such as:
simple flat folders, 3 flaps folders, folders with gussets
presentation folders with document pockets
air ticket wallets
covers for music records, floppy disk covers
CD/DVD wallets with one or two pockets
CD/DVD and DI.GI. PACK wallets from 1 to 4 reinforced panels
book covers with flaps, flexible book covers
photograph wallets with double flat pockets, and gussets
courier envelopes (DHL, FedEx., etc.) with double sided tape & tear tape strip
medical file envelopes, special size envelopes
double sided tape application, tear tape or silicon tape application
simple In-line Boxes and crash lock boxes
objects inserting
and many others.
Fidia Macchine Grafiche has developed many complementary units which can be added on the Combiunica machines in order to produce more complex jobs.