A Bookbinding Legend Leaves the Stage…
The other day, I received an email from a true "legend" in the bookbinding industry.
The email informed me, that after 65 years of service, he was finally going to concentrate on more important matters like taking care of his family.
The man is the RIT Professor (Emeritus) Werner Rebsamen. And what a storied career the Professor has had. Let's look back to 1950. Werner's father was in charge of the largest edition binder in Switzerland. When young Werner expressed a desire, to learn his fathers trade as a master bookbinder, his dad tried to talk him out of it: "Too many headaches, printers always try to pass-on their mistakes and blame us." Well, the son insisted and then got an excellent education. Werner came to the U.S. on a special visa to replace a highly skilled, retiring 76-year-old bookbinding craftsman, binding pulpit bibles for the Lutheran Church.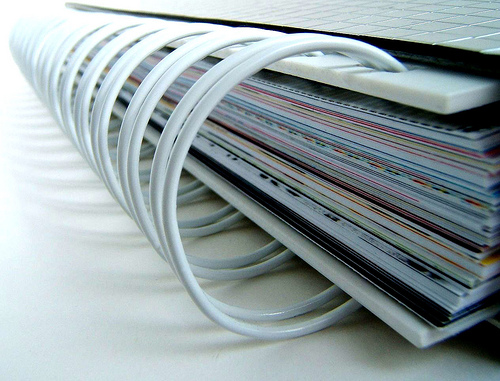 Over his incredibly long career (which eventually led to academia). From a position as quality control manager of the largest Bible printing facility, to the development of the world's first in-line printing and hardcover binding line, Werner did it all. In 1974, Werner made the transition to The Rochester Institute of Technology. There, he was responsible for setting up laboratories to teach aspects of print finishing, binding, book and material testing. Not only did he teach printing students how to plan for successful printing and binding endeavors, with graduate students, he conducted research and guided them through their thesis projects.
A younger Werner Rebsamen at work.
But perhaps Werner is best known for his technical papers and presentations, as he penned and published approx. 550 trade articles. In addition, he chaired and conducted, at RIT, over 100, three-day print finishing and book-manufacturing seminars—50 of them were sponsored by BMI. For over 20 years, he addressed the hundreds of participants of the annual Research and Engineering Conference with his popular "30 Minutes around the World" topic, informing them on new developments around the world. I fondly remember Werner's talks, which were both informative and entertaining. Werner did travel the world and has visited or consulted at several hundred printing and binding facilities.
In 1994, he received the prestigious NAPL Technical Leadership award. His last, major presentation was 2011 as a keynote speaker to a large publishers and book manufactures meeting in Southern India. Since the 1950's, he has attended most of the drupa exhibitions. Werner retired from RIT in 2001 as a Professor Emeritus, but he continued as technical director for LBI/BMI, which required extensive technical writing and PowerPoint presentations.
They did ask Werner to continue. But at the age of 80, he wanted to concentrate on other, more family-oriented endeavors. Werner, who retired in New Hampshire next to a skiing resort, will still be available for technical advice via e-mail. As Werner stated, one needs to keep that brain massaged and the body fully trained to be in top shape for the next decade or maybe two.
Looking back, Werner said he very much enjoyed his career and most of all, is thankful for being a witness to some of the greatest developments in print finishing. Having known Werner since the 1990's I can testify to his vast knowledge of print finishing, and (more importantly) his willingness to share that knowledge with everyone. Whenever I had a question about bookbinding, Werner's answer was only an email away. Even more important, Werner was always a pleasure to be with at the various industry functions where we encountered each other. He is a genuinely nice human being.
All I can add is a heartfelt "thank you" to Werner for all of his contributions to print and print finishing. I know I will still be able to count on a definitive email reply whenever I will encounter those sometimes difficult binding questions.
Credit: here.